While Schrader Plumbing handles most types of plumbing situations, whether emergency, or planned, most people search for a "Water Heater plumber near me".


Water heaters are vital to your homes comfort, and can be dangerous if not well maintained and looked after. If your water heater shows any signs of leak, or makes funny popping sounds, chances are, you are on your way to a water leak that could potentially flood your home. Some water heaters are covered by warranty.
Water Heater Services in North Richland Hills
Doing a routine inspection on your water heater can help you determine if you should call a plumbing company in North Richland Hills Texas to come out and do further investigation.
Popping Sounds Popping sounds coming from your water heater may be a sign that you should call out a plumber to inspect the unit further.
Rusty Wet Spots If you notice rusty and/or wet spots at the top of the heater, or around the bottom, you should call a plumber to come out right away.
Lack of Hot Water If you notice you are not getting as much hot water as you used to, or it doesn't get as hot as it used to, you may have an element going out in your heater.
Pilot Going Out This one is more obvious, but if your pilot goes out, or keeps going out, there may be an issue with the thermostat or gas line.
Faucets Stopping Up While this may be caused by many things, a water heater's dip stick may be disintegrating, and the parts stopping up faucets throughout your house. If you think this is the case, it can lead to a lot of expensive repairs, such as tearing out tiles, faucets, etc. to remove the particles. It will also cause you to not have much hot water.
What Can I Expect From a Water Heater Repair in North Richland Hills?
Schrader Plumbing strives to give top notch service, and go above and beyond the requirements set by the State of Texas and City of North Richland Hills. We pull permits on water heater installations, and call for inspections, to ensure peace of mind and quality service. When you call Schrader Plumbing for your water heater repair, you can rest assured, you will be getting one of the best plumbing companies in North Richland Hills.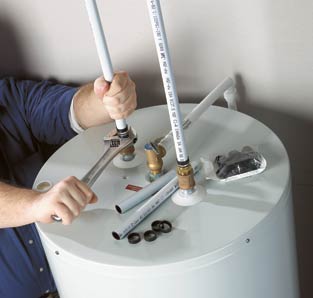 Water Heater Maintenance
It's a good idea to help prevent dangerous encounters with water heaters, by scheduling annual water heater maintenance with a licensed plumbing company in North Richland Hills. Schrader Plumbing will come out, listen to any concerns you may have, and then inspect your water heater system, including:
Water Lines and Water Valves
Temperature and Pressure Relief Valve, line, and exterior exit (T&P)
Gas Lines and Gas Valves
Gas Vent
Gas Thermostat
Proper Air Flow / Ventilation
Electric Elements (on electric water heaters)
Proper Drainage Capabilities of Area
Condition of Water Heater / Look For Moisture
Check for Dip Stick Condition / Faucets for Particles
Don't take any chances, if you need a water heater repair in North Richland Hills Texas, call Schrader Plumbing, and schedule an appointment. If you have a water heater emergency, call us for 24 hour water heater emergency service.